EXPERIENCE
You know the voice. Now what can he do for you?
You've heard Andrew Peters as the voice of L'Oreal Paris, Asahi and Porcshe. You've heard him as the original voice of Dancing With the Stars and currently the network voice of Channel News Asia, Dubai Eye 103.8 and Triple M.
If you have ears and you're listening in Australia, New Zealand, UAE and throughout the Asia Pacific, you know the voice. A voice heard by literally millions everyday on TV, radio and corporate narrations.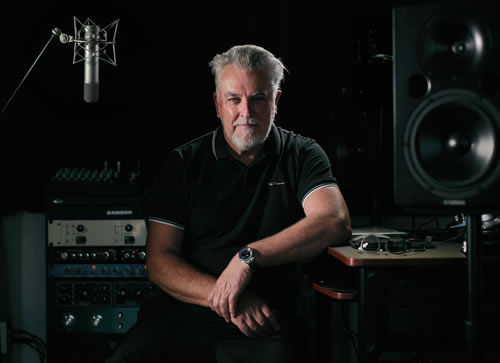 Roadknight Studio. The right voice meets the right sound.
Andrew also offers the use of his own professional facility, Roadknight Studio, via ISDN, Source Connect, phone patch and Skype. An audio perfectionist, Andrew has fully equipped Roadknight with top-of-the-line equipment so you can be sure that your next voice over will sound great.
Need full voice over production? Whether TV or radio, corporate narration, eLearning or on hold, we offer complete audio solutions.
For details call +61 (0) 414 448 003 or send an email to andrew@andrewpetersvo.com
Listen to a sample here:


SERVICES
Specialising in;
• TV and Radio commercials
• TV and Radio promos and imaging
• Corporate narrations
• eLearning
• IVR and on hold
Fast turn around;
Voiceovers can be produced and delivered as quickly as within the hour.
Delivery;
Andrew can deliver high quality voiceovers via ftp.
Or connect via ISDN, Source Connect, phone patch and Skype.
Top of Page

RATES
All rates are based on equity and quoted in AUD. For jobs outside of Australia POA.
*Studio fees may apply.
Television / Cinema / Video on demand / Internet
Single state
1 x 15 – 30s 12 months $575, 3 months $400
1 x 45 – 60s 12 months $635, 3 months $420
1 x 90s 12 months $685, 3 months $445
1 x 120s 12 months $725, 3 months $470
National (more than one state)
1 x 15 – 30s 12 months $880, 3 months $530
1 x 45 – 60s 12 months $940, 3 months $550
1 x 90s 12 months $1000, 3 months $590
1 x 120s 12 months $1055, 3 months $625
Radio commercials / Tags / Podcasts
Single state
Per Product Hour; 12 months $400, 3 months $330
NATIONAL (MORE THAN 1 STATE)
Per Product Hour; 12 months $470, 3 months $365
Corporate narration / DVD scripts
Per Client / product, per hour
Australian release only, In-house company use, non-broadcast, Non-saleable, $450.
Pick up rate $320 p/30 minute booking. If for sale or public release, POA
Promotional, hype or show reel narration for client website or DVD $450
Limited external usage (events, trade shows, narrowcasts, awards etc $550
General public usage or for sale, broadcast or commercial distribution $880
E/Learning, Instructional narration (Intranet based, student or employee services, not for sale) & free apps $450
Internet presentation
Per Client / product / script, per hour
AV Presentation / Sales Videos. Per hour/per script / per video. Company online video streaming channel or social media page $620
Telephone messaging
Per script, entity, product, per hour, per country. No pick up fees apply to telephone/IVR
On-Hold messaging – Per hour, per entity, per script, $350. Add character $190. No pick up fees. Overseas use POA
Interactive Voice Response (IVR) $450 Overseas use – Price on application. No pick up fees.
Top of Page

STUDIO EQUIPMENT
Microphones;
Microtech Gefell M92.1s
Sennheiser MKH416
Microtech Gefell M930art
AKG C414eb P48
RØDE NTG5
Pre amps;
Neve 1073dpa
Sebatron VMP2000e
Grace M101
UA LA610
Compressors;
Connectivity;
Source Connect 3.9 Certified
JK Audio phone patch
Skype
Top of Page
Contact Andrew